Article content
LaSalle has the highest rates for property insurance in the province, followed closely by Windsor, according to a report by RATESDOTCA, an online insurance comparison website.
Article content
The Toronto-based company places homeowners in LaSalle and Windsor at the top of the list, claiming they pay the highest average annual home insurance premiums in the province at $2,411 and $2,139, respectively.
"The topography of the Windsor region makes it more likely to flood than other Ontario cities," said RATEDOTCA's Tanisha Kishan.
"As incidents of severe weather increase across the country, flooding is a peril for which more and more insurance providers are adjusting coverage — all the more so in low-lying areas."
RATEDOTCA said overall home insurance premiums in the province have increased approximately 10 per cent since the third quarter of 2021.
LaSalle's rates have risen even more steadily — up 15 per cent — while Windsor rates have increased three per cent.
Article content
Toronto has seen a year-over-year increase of about 17 per cent, which Kishan attributed in part to extreme weather, as well as inflation and supply chain issues driving up prices and wages.
Matthew Bondy of family owned Bondy Insurance in LaSalle, said there are many variables that affect insurance costs.
"We have seen rates go up," Bondy said. "It's hard to give an exact percentage.
"(Rates are) so individualized to the homeowner that your neighbour could be paying a different premium than you," he said. "These insurance companies are getting very sophisticated with the algorithms.
"So, if my home sits a little bit higher than my neighbour, I'm going to get a more favourable insurance rate because water travels to the lowest point. These insurance companies know that now."
Article content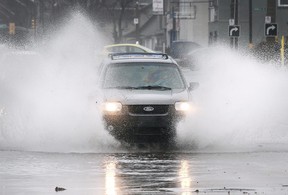 Bondy agreed flooding is part of the equation but also said a big variable this year has to do with supply and labour issues related to the COVID pandemic.
"Your two-by-four is three times as much as it was a year ago," he said. "Your labourer is charging three times as much because he's busier than heck and he can't find anybody to work so he has to charge more and he can charge more."
LaSalle Mayor Marc Bondy, Matthew's father, who also works at the family owned insurance company along with his younger son Marshall, said some homeowners may find it difficult to even find insurance coverage.
"If you live in a watershed area or a low-lying area and you're close to the water you might not be able to buy what they call sewer backup (insurance)," Marc said. "If the sump pump fails because the water table's so high, your basement floods.
Article content
"And I can tell you, as an insurance broker, our basement flooded at our office last year and it was a $30,000 bill."
The Bondy office is located on Front Road where overland flooding occurred last year due to high water levels in the Detroit River and extreme weather events.
The town issued emergency notifications regarding flooding due to heavy winds and rain several times from late spring through the summer months.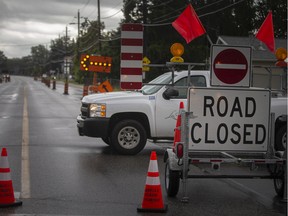 LaSalle's mayor said the town received a commitment from the federal government last year of close to $15 million for flood protection along its Detroit River waterfront after applying for a grant for the roughly $30-million project. The plan includes installing several new pumping stations.
Environmental assessments have been completed and design work is underway.
Article content
Matthew recommended homeowners speak with their insurance brokers about comparing rates at various companies and reviewing coverage needs.
The RATEDOTCA report also recommends comparing quotes and coverage as well as bundling insurance policies, which often opens up discounts.
Back-flow valves, which are mandated by the City of Windsor, are also recommended, as is flood protection coverage and not smoking, as homeowners who don't smoke may be eligible for a discount due to the fact that providers identify their homes as less vulnerable to fire.
Visit https://rates.ca/resources/rural-ontario-residents-hit-hardest-increasing-costs-home-ownership to see RATEDOTCA's report.